ACX (Audiobook Creation Exchange) is the Amazon KDP of audiobooks. ACX is where independent authors and publishers go to find and work with audiobook producers, publish audiobooks, and get sales information on your audiobook titles. ACX will be your audiobook dashboard.
The steps are mostly self-explanatory on ACX, but I thought I would lay it all out so the process goes as quickly and smoothly as possible:
Step 1: Go to acx.com
Log in or sign up at www.acx.com and enter in your author name. Amazon will then search Amazon.com for rights you might have using your name.

---
Step 2: Select Your Book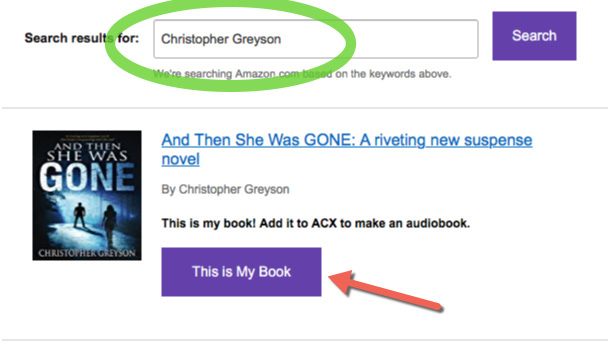 ---
Step 3: Choose the production option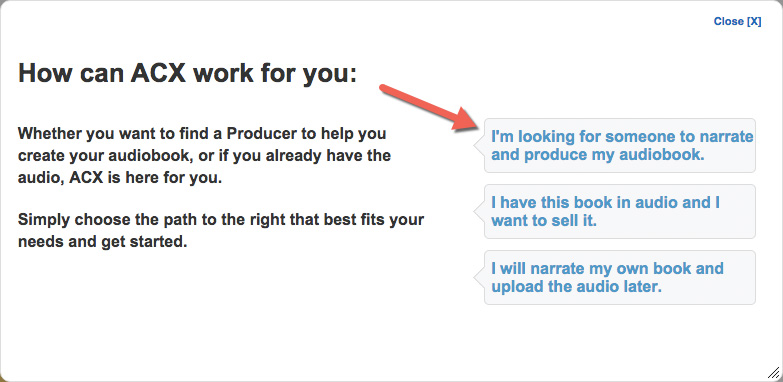 ---
Step 4: Agree to the terms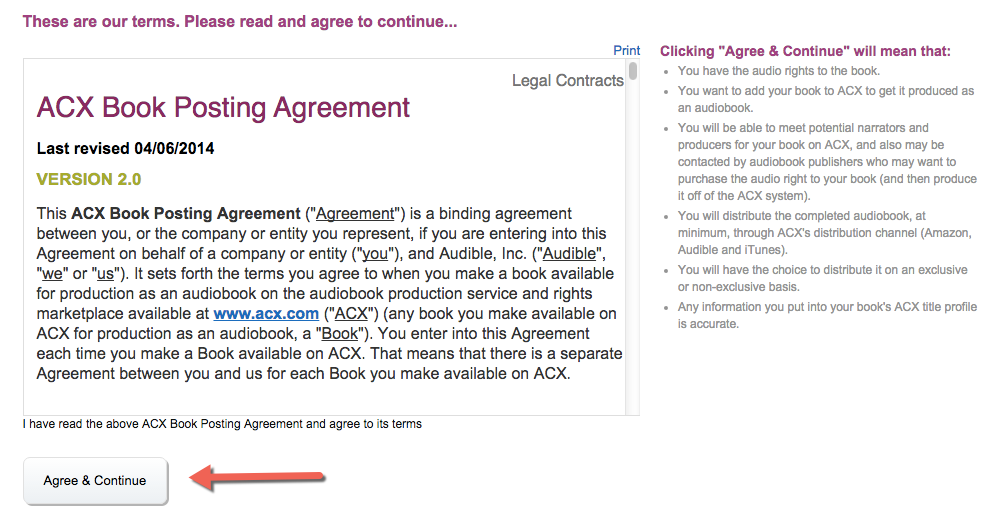 ---
Step 5: Enter your book description

It's best to just use your Amazon book description for this.
---
Step 6: Enter your copyright information

---
Step 7: Select a category and voice preferences


---
Step 8: Add comments

Leave a note that you are not looking for any auditions here.
---
Step 9: Audition script
Also note here "narrator already selected" in the space provided.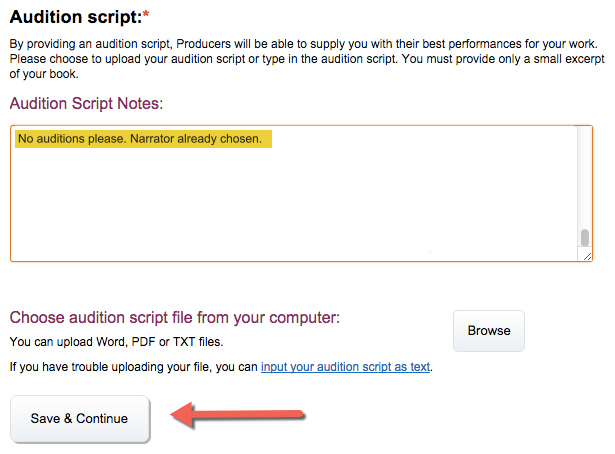 ---
Step 10: Enter your book's word count

---
Step 11: Specify your territory rights

Select "World". Choosing this means you have permission to sell your audiobook in every country.
---
Step 12: Select payment method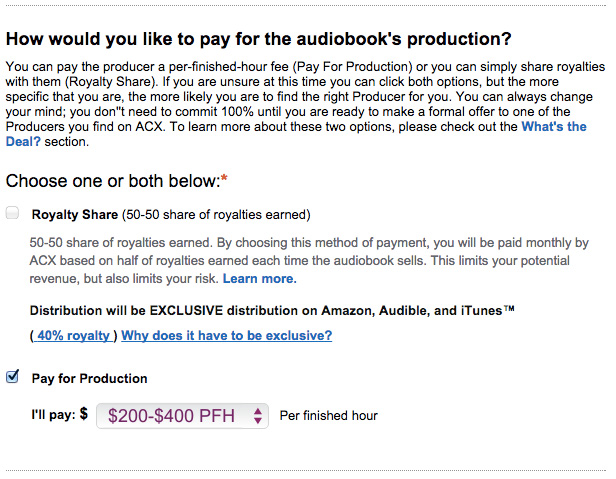 ---
Step 13: Select distribution type

I highly recommend doing exclusive. As I mentioned previously, there are only a few other platforms for selling audiobooks and they have very little market share at this time.
---
Step 14: Review and post


---
Step 15: Make the offer to yours truly
Go to my narrator profile page and click the big "Make Offer" button.
---
Step 16: Set the schedule
The first 15 minutes can be due within a week or two. The complete audiobook can be due in 30-60 days. I can give specifics on the schedule depending on when we start.
---
Step 17: Choose a payment method

Note that payment is done outside of ACX and we'll handle that separately upon completion.
---
Step 18: Preview & Send offer

And then click "Send Offer" after it shows a summary of what you've just entered.

---
Step 19: Offer acceptance and manuscript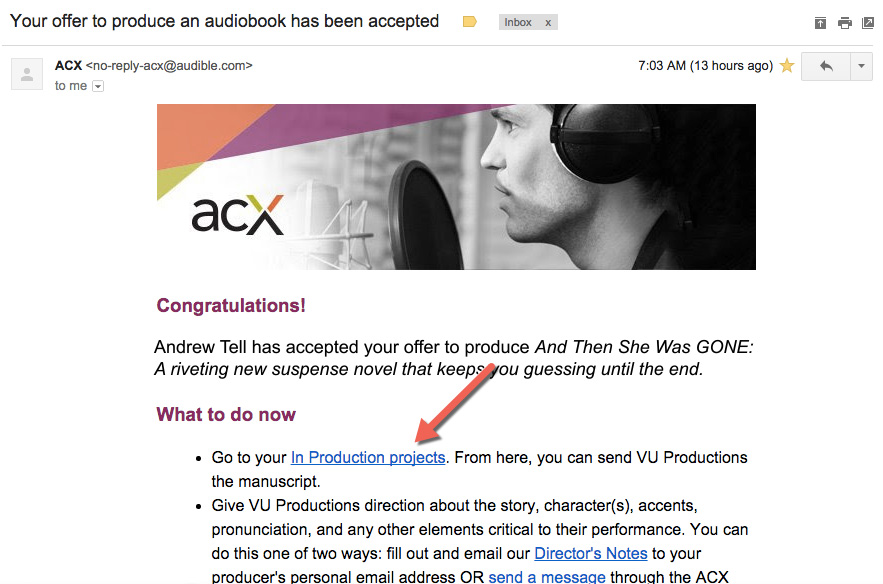 After I accept the offer, you'll get an email at this point to upload or send me the manuscript. I am currently working off the  Kindle version, but probably best to send me a regular copy of the manuscript as a Word doc or Kindle mobi file via email or on Slack. You do not need to upload the manuscript to ACX, though it is an option.
---
Step 20: Cover Art

At some point during the production process, you'll need to upload an audiobook cover. Audiobook covers are square, so have your cover designer reformat the artwork to ACX/Audible specifications. That link has the full info your designer needs.
---
Step 21: First 15 minutes

After I produce the first 15 minutes or so, I'll post that for your approval on ACX. You'll get an email notification with a link to our project page. Listen to it and click Approve. We've already done this part- it's where we iron out overall tone and characterizations.
---
Step 22: Review the entire audiobook

This will happen after the production on my end is complete: recording, editing, mastering, and proofing. My editor will post the full audiobook on ACX and we'll submit the entire book for your review and approval. You'll get an email notification when that happens. The audio will then be available to listen to on the production page: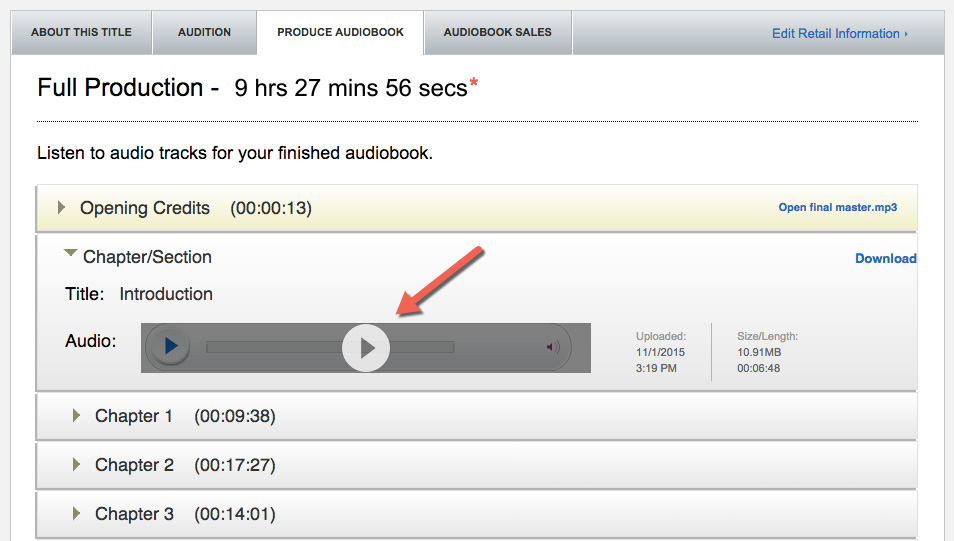 After you're done listening, you can Request Changes or Approve Audiobook. 

---
That's it!
Once approved, it takes about a week for the audiobook to go live on Audible, Amazon, and iTunes.
Email me with any questions or to give you a hand with any part of this process.